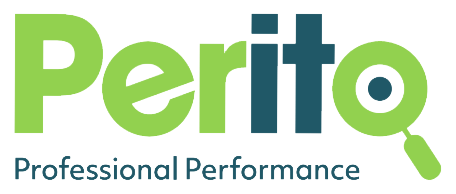 Effective from 01 January 2022
Privacy Policy
Perito Professional Performance respects your privacy. This policy outlines how we use the data you provide to us through Perito Professional Performance. We only collect information from you through the Assessment-questionnaire with your permission, and in accordance with this policy. You don't have to answer optional questions that you do not wish to answer.
Summary of Privacy Policy
When you complete Perito Professional Performance, the information you provide is sent securely over the internet to our servers in the Netherlands. We use this information to create personal and group reports. These reports are shared during a workshop or personal interpretation session. The coach / trainer is not allowed share your report(s) with anyone else without your permission.
None of your data is sold to anyone.
Who We Are
Perito Professional Performance is a business tool used and licensed to others by Esperto bv, a registered company in the Netherlands based at Creutzberglaan 7B, 1943 NP, Beverwijk. Esperto bv is the "data controller" for all of the information you enter into the Perito Professional Performance. The information you enter will be stored on our servers in the Netherlands.
What information we will collect from you
Personal Details
Once you consent to this policy, Perito Professional Performance may ask you for the following details:
First name and family name (obligated question)
Name of your employer / organisation (obligated question)
Email address (obligated question)
Date of birth (obligated question)
Job title  (optional question)
Telephone number  (optional question)
Gender (optional question)
Data
After you provide your details, you score a series of statements from 'rarely / never' to 'always / almost always'. Perito Professional Performance uses these answers (which we call your scores) to generate your Personal Report and Group Report.
IP Address
Our servers will record the IP address of the computer you use to complete Perito Professional Performance. This information is only used to troubleshoot technical issues that might occur.
How we use the information you provide
Perito Professional Performance will use the details you provide, together with your scores for the following purposes:
To generate a Personal Report
To generate a Group Report - Reporting is only done at group level (groups of at least 3 respondents), with extra consideration being given to the anonymity of the respondents
Use of your data after your workshop
After you have attended your workshop or interpretation session, Perito Professional Performance will keep your data on its secure servers, unless you request that we delete it. We use this data for the following purposes:
Re-run reports if required
To improve the measurement methodology, we compare previous reports with new reports. For this we use a limited set of socio-demographic characteristics and no further personal data.
Who has access to your data
To receive Perito Professional Performance Personal Report or Group Report, you must attend a workshop, personalised interpretation session, or coaching session facilitated by an accredited Perito Professional Performance practitioner. We will share your Personal Report and scores with the Practitioner before they deliver it to you. All 5 States of Team Success accredited practitioners are employees or consultants of either:
Esperto bv
An independent licensed distributor; or
The company or organisation that purchased the report for you (this usually means Perito Professional Performance practitioner is employed by your employer). Perito Professional Performance accredited practitioners may have administrative assistants to help them in preparing to deliver your profile to you. We only permit these administrative assistants to handle your profile for the purpose of assisting the practitioner, or to provide a copy directly to you.
We will never sell your personal information to anyone for any purposes, and we will not use your Personal Report, Group Report, details or scores for marketing purposes.
Where your data is stored and how we keep it secure
All data collected through Perito Professional Performance is transmitted securely over the internet using HTTPS encryption protocols or better. The data is stored in Perito Professional Performance database, on secure servers in the Netherlands.
Perito Professional Performance has implemented security policies, rules and technical measures that match or exceed industry-standard protocols to protect your data. These security measures are designed to prevent unauthorised access, improper use or disclosure, unauthorised modification, unlawful destruction and accidental loss.
Countries your data could be transferred to
Perito Professional Performance provides products and services to customers around the world. However, we will store your scores and Personal Report and Group Reports in our data centre in the Netherlands. We will only transfer your data outside of the European Economic Area ("EEA") in the following situations:
You are outside the EEA and we are transferring your data to you; or
We are transferring your data to a practitioner who is assigned to deliver your data to you, and the practitioner is required by contract to handle the personal data in strict compliance with this policy and with the General Data Protection Regulation (being Regulation (EU) 2016/679 of the European Parliament and of the Council [2016] OJ L119/1)
Perito Professional Performance observes the same high standards of data protection everywhere.
Updating of the privacy policy
If any changes are made to this privacy policy, all current clients of Esperto bv will be notified.
How long we retain your data
Perito Professional Performance will only keep data for as long as necessary to meet these purposes. At your request, we will delete your personal data from our records. Requests for deletion of your personal data should be sent to our Data Protection Officer by email (info@esperto.one) or at the postal address at the end of this policy.
How to contact us about your personal data
For any queries relating to this policy, please contact:
Data Protection
Esperto bv
Creutzberglaan 7B
1943 NP, Beverwijk
The Netherlands
Tel: +31 85 06 02 543
Email:
info@peritoprofessionalperformance.nl
powered by Esperto Assessments
v1.9.1